The Kaneva Mall is the prime location for in-world shopping. Located South of the
Kaneva Plaza
, the Mall serves as both a hotspot for official vendors and in-world socialization. To date the Mall hosts 14 stores as well as its own Banking system and
Help center
.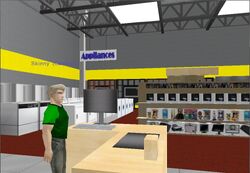 The Mall Lobby is the central hub for many members who often chat, dance, and just hang out around the fountain in Mall's center. On either end is a Banking booth where members can deposit furniture, clothing, and any other objects that can fit into their inventory. On the opposite end of the main room lays a Help Center that acts independently of the primary Help Center Northwest of the Mall.
Beyond the entry room are two wings, North and West, each housing Seven shops as follows

West Wing
Bed & Box (Furniture)
Digital Den (Electronics/Misc.)**
Hip Chic (Clothing)
Threads (Clothing)
Clips 'n Curlz (Hairstyles)
Avenak Furniture (Furniture)
E-Shack Electronics (Electronics)
North Wing
Frames (Misc.)
Kaneva Real Estate (In-World Property)**
Gothwear (Clothing)
Just Kicks (Clothing)
Hi Resolutions (Electronics)
Backdrop Furniture (Furniture)
Home Builder (Furniture/Home Improvement)
(**Denotes "Credits Only" Vendor)
The Mall is the only location other than the Help center with an on-site Tutorial.
You can access the roof of the mall by running up the decorative red girders lining the building, visible from Kaneva Plaza. Atop the roof are several Easter eggs including a hot tub, tooth chairs, a bar, and some liquor and winde bottles.
Inside the mall, if you leap on the fountain rocks and look up you will see an avatar. His name in blue Ralf(paintball master). This Easter Egg has been removed after the Mall's recent updates.
If you run down the North Wing into the Home Builder store there are a series of kitchen sets along the Eastern and Northern wall. Head for the first set on the North Eastern side of the room and jump on top of it. Once you have climbed on top, you can fall through the mall's exterior wall, and can now roam freely outside of it. Using this technique you can stand beside the tellers in the Kaneva Bank and the clerk at the Mall's Kaneva Help Center.