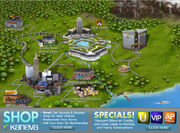 The map can be accessed by clicking places on the HUB, then communities, then Map. The map allows you to quickly click on a category of community you wish to visit or to be able to quickly access particular stores in the mall, city, or plaza. Hover the cursor over the areas and additional information will pop up beside the icon where you can select your chosen options.
Beneath the map is a series of links for credit bundle specials and the Shop.Kaneva page where a user can view content uploaded by other users or start your own shop.
Around the Map
Edit
Here you will find clubs that have been marked for members holding an access pass.
Here you can play the Texas Hold'em app games.
Here you can view the top hangouts or your own places.
Here you can view the top dance clubs owned by other members.
Ka-ching!
Ka-ching! Store
Texas Hold'em
Kaneva Holiday Shop
Costume Shop
Jons LinGerie Collection
Wedding Items and Formal Wear
Collectible Shop
Bryan's Accessories
Kaneva Museum of Art
Top Stores owned by members
Information Kiosk
Kanevea Bank
Frames
Kaneva Real Estate
Gothwear
Just 4 Kicks
Hi Resolutions
Backdrop Furniture
Home Builder
Bed & Box Furniture
Digital Den
Hip Chic
Threads
Clips n Curlz
Avenak Furniture
E-Shack Electronics
Here you can see what hangouts fall under the top categories and port to the Lawn and Leisure shop.
Here you can access the homes of other members along with a button to your own.
One Click Unemployment Agency
Here you can get rewards every 6 hours.
Click on the Tours icon and you are immediately signed up for the next tour (but you should wait for the automatic in-world notification that tours are available before you click on the icon).